THE ELSTREE PROJECT REUNITES THE SHINING CREW TO CELEBRATE 35 YEARS OF KUBRICK'S HORROR CLASSIC
"Come play with us. Forever… and ever… and ever…"
When the Grady Twins said those words at Elstree Studios 35 years ago, they really meant it. And to prove it, they are returning – by invitation of The Elstree Project – on 25 May 2015 to celebrate the original release of The Shining.
Supported by the Kubrick family and Warner Brothers, "Forever and Ever: 35 Years of The Shining" will bring back many of the original crew and cast of the film to the very studio where the film was made.
Already confirmed guests are Stanley Kubrick's wife Christiane, and:
Assistant director Brian W Cook
Camera assistant Doug Milsome
Steadicam inventor and operator Garrett Brown
Assistant editor Gordon Stainforth
Executive producer Jan Harlan
Location researcher Katharina Kubrick
Camera operator Kelvin Pike
"The Grady Twins" Lisa and Louise Burns
Camera technician Mick Mason
Steadicam operator Ray Andrew
Post-production sound editor Ray Merrin
Scenic artist Ron Punter
Co-director of The Elstree Project and event organiser Howard Berry: "This will be a first time event for cast, crew, fans, academics, conspiracy theorist and critics. They'll be united for a celebration and will have a lot to share."
The Shining was filmed at Borehamwood's Elstree Studios during 1978-79. So big were the sets that almost every stage was used. A full-scale section of the Overlook Hotel's exterior was built on the backlot.
Jan Harlan, the film's Executive Producer: "The key to the film's enduring success is in the unresolved mystery behind this enigmatic story, or, as Kubrick said: Never explain anything that you don't understand yourself."
"This is a one-off event," continues Howard Berry. "There won't be another reunion for The Shining, and we hope fans will leap at the chance to be a part of this celebration, and remember it… Forever… and ever…"
Tickets will go on sale later in 2015.
For further information, contact Howard Berry: howard@theelstreeproject.org
Join the event page on Facebook to keep up to date with announcements.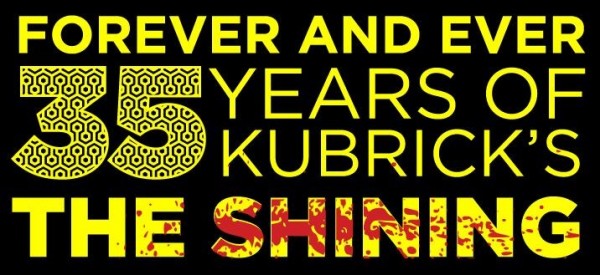 Information for journalists:
About The Elstree Project:
The Elstree Project is an oral history project, run in partnership between volunteer group Elstree Screen Heritage and the School of Creative Arts at the University of Hertfordshire.
Since 2010, over 50 interviews have been recorded with cast, crew and studio staff from the six major studios of Elstree and Borehamwood.
Interviewees include actors Brian Blessed, Sir Roger Moore and Simon Pegg, film directors John Hough, Steven Spielberg and Walter Murch, and crew members from The Prisoner, The Avengers, Star Wars, Who Framed Roger Rabbit, The Muppet Show and EastEnders.
Staircases to Nowhere, the project's oral history of The Shining, has been acclaimed as "the greatest film ever made about The Shining" by Movies.com.
Videos from the project have been seen by almost one million people.
About Warner Brothers:
Warner Bros. Entertainment is a global leader in all forms of entertainment and their related businesses across all current and emerging media and platforms.
A Time Warner Company, the fully integrated, broad-based Studio is home to one of the most successful collections of brands in the world and stands at the forefront of every aspect of the entertainment industry from feature film, television and home entertainment production and worldwide distribution to Blu-ray and DVD, digital distribution, animation, comic books, video games, product and brand licensing and broadcasting.